Doors Of Cappadocia Hotel (Adults Only) - Goreme
38.6445617675781

,

34.826530456543
115US$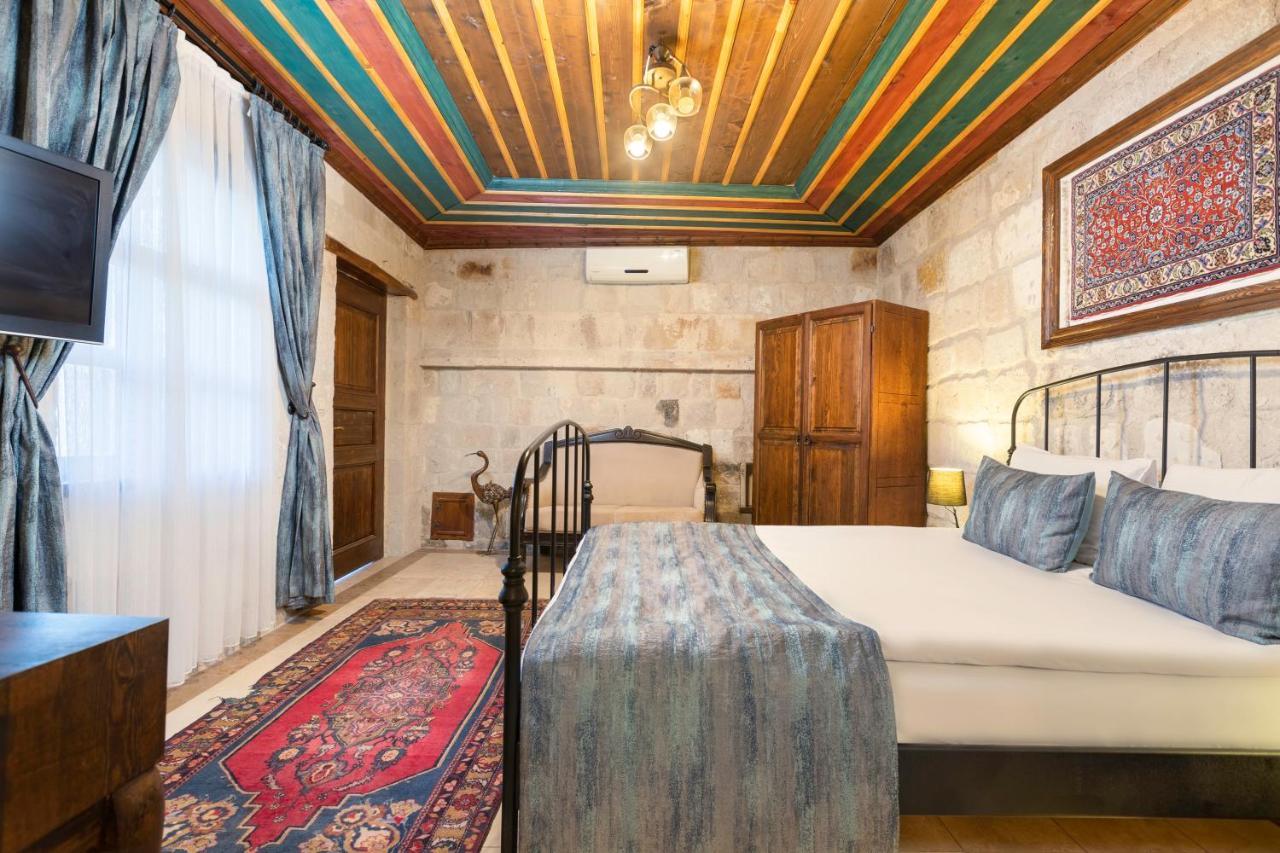 Highlights
Hotel Awards
Turkey Hotel Awards
Doors Of Cappadocia Hotel (Adults Only),
Goreme
highly recommended
Address
Orta Mah Mizrak Sok No. 11, Nevsehir, Tr
,
Goreme
,
Turkey
,Central Anatolia Region
Overview
The family-managed Doors Of Cappadocia is set in the historic district of Goreme and offers unique guest rooms with a view over the city.
Location
The luxury hotel is located near a historical district. Guests can reach Goreme city center in 5 minutes on foot. In addition, the property is placed within spitting distance of hills. Doors Of Cappadocia Hotel stands 1.9 miles away from John the Baptist Church, popular with pilgrims and tourists alike.
The Goreme hotel is located 25 miles from Nevsehir airport and about 0.3 miles from Avanos-Zelve bus stop.
Rooms
Some of the 18 non-smoking rooms at the Goreme property are furnished with a work desk, and appointed with a minibar and an electric kettle. Private bathrooms include nice touches like hairdryers and toiletries.
Eat & Drink
The 4-star Doors Of Cappadocia Goreme offers guests a free buffet breakfast. The pool bar is ideal for a relaxing drink.
Leisure & Business
You can enjoy your stay at this hotel while relaxing at an outdoor swimming pool.
Internet
Wireless internet is available in the entire hotel for free.
Guest Parking
Private parking is possible at a location nearby for free.
The hotel staff speaks English, Dutch, Turkish, Arabic.
Number of rooms:   18.
Facilities
Most popular facilities
Baggage storage
Baggage storage
Locker room
24-hour services
24-hour reception
24-hour security
Food/ Drinks
Bar/ Lounge area
Welcome drink
Snack bar
Coffee shop
Swimming pool
Seasonal outdoor pool
Plunge pool
Infinity pool
General
Wi-Fi
Parking
Baggage storage
24-hour services
Food/ Drinks
Shuttle
Swimming pool
Laundry
Sports & Fitness
Hiking
Horseback riding
Cycling
Services
Paid airport shuttle
Room service
Housekeeping
Laundry
Dry cleaning
Tours/Ticket assistance
Welcome drink
Dining
Breakfast
Snack bar
Bar/ Lounge area
Special diet menus
Spa & Leisure
Infinity pool
Plunge pool
Seasonal outdoor pool
Beach umbrellas
Sun loungers
Sun terrace
Garden area
BBQ facilities
Pool with view
Room features
Air conditioning
Heating
In-room safe
Mini-bar
Soundproofed rooms
Sitting area
Terrace
Garden furniture
Tea and coffee facilities
Ironing facilities
Media
Flat-screen TV
Telephone
AM/FM alarm clock
Good to know
Check-in
from 14:00-23:59
FREE
Check-out
until 12 pm
FREE
Children & extra beds
There are no cribs provided in a room. 
Pets
Pets are not allowed.
Rooms and availability

Bed options:

Max:

3 persons
City view

Shower

Heating

Air conditioning

Bed options:

2 Single beds or 1 Double bed

2 Single beds

Max:

2 persons
City view

Shower

Heating

Balcony

Air conditioning

Bed options:

2 Single beds or 1 Double bed

2 Single beds

1 Queen-size bed

Max:

3 persons
City view

Shower

Heating

Bathtub

Balcony
Location
Orta Mah Mizrak Sok No. 11, Nevsehir, Tr
,
Goreme
,
Turkey
,Central Anatolia Region
City landmarks
Nearby
Restaurants
Hotels nearby
Museum
Goreme Open Air Museum
1.5 mi
Park
Goreme National Park
4000 ft
Merkez
Museu a Ceu Aberto de Goreme
1.5 mi
Goreme-Nationalpark
2.2 mi
Tekelli mahallesi 2.KarlIk sokak no 1 U\u00E7hisar
Naile Art Gallery
2500 ft
Farm
Lucky Horse Ranch
2500 ft
Terminal Karsisi No 3
Capp Off Jeep Safari
2500 ft
Adnan Menderes Cad. No 14/A
Kapadokya Balloons
4000 ft
50180 Göreme/Nevşehir Merkez/Nevşehir
Goreme Roma Kalesi
2500 ft
50180 Göreme Belediyesi/Nevşehir Merkez/Nevşehir
Goreme Tarihi Milli Parki
2500 ft
On the way Goreme-Open Air Museum
Camping Aqua Park
1200 ft
Göreme El Sanatları Çarşısı
Eski mah. Tepebasi meydan. No: 17 Ortahisar - Urgup - Nevsehir
Restaurant
Cappadocian Cuisine Restaurant
500 ft
Restaurant
D'stiny Restaurant
500 ft
Restaurant
Keyif Cafe & Restaurant
700 ft
Restaurant
Namaste India Restaurant
900 ft
Restaurant
Saziye Restaurant
1100 ft
Restaurant
Fat Boys Restaurant & Cafe
1200 ft
Restaurant
Nature Little Kitchen
1100 ft
Restaurant
My Mother's Restaurant
1200 ft
Getting around
Airports
Erkilet International

(ASR)
47.3 mi
You can book a shuttle, once your reservation is complete.
Essential information about Doors Of Cappadocia Hotel (Adults Only)
| | |
| --- | --- |
| 💵 Lowest price | 115 US$ |
| 📏 Distance to center | 1400 ft |
| 🗺️ Location rating | 9.4 |
| ✈️ Distance to airport | 24.4 mi |
| 🧳 Nearest airport | Nevsehir, NAV |
Reviews of Doors Of Cappadocia Hotel (Adults Only)
James

I had a fantastic stay at this hotel. The location was super close to the center of action, making it convenient to explore all the attractions in the area. The hotel facilities were amazing, especially the pool with its breathtaking view. The breakfast was delicious and definitely worth mentioning. The staff was incredibly helpful and friendly, from the receptionists to the owner who assisted me in organizing tours and a balloon ride. this hotel exceeded my expectations in terms of cleanliness, facilities, location, and the superb staff.

Nothing to fault.

Frank

Good breakfast variety, with cooked-to-order eggs. Complimentary upgrade upon early arrival. Helpful staff suggested tours and rearranged canceled balloon tour. Lovely pool area.

John

Location is excellent

No bathrobes or water in the room.

missing

It is a beautiful cave hotel, great location, just perfect decorated cave rooms, very nice breakfast with beutiful view of goreme valley. Definitely higly recommended place to stay in goreme.

Frederic

Best experience staying in Cappadocia during New Year! Loved the friendly and accommodating staff who helped us book our balloon flight and gave great recommendations for local restaurants. The heated floors in the room were a great advantage during the cold winter season. The spacious room and luxurious bathroom were impressive features.

Finding the hotel was a bit challenging as it was not listed on GPS. Also, we were disappointed that there was no wine available at the bar.

Charles

I recently stayed at this luxurious hotel and had an amazing experience. The location of this place is ideal, as it is perfectly situated to see everything. It is located on a hilltop, providing breathtaking views. The rooms are thoughtfully designed, with windows strategically placed against the wall to maximize the view. The service here is top-notch, with room service, dry cleaning, housekeeping, and laundry services available. I also appreciated the airport shuttle service, which made my arrival and departure hassle-free. The staff provided the best service, always going above and beyond to ensure my comfort. The room amenities were impressive, with features such as ironing facilities, heating, air conditioning, and tea and coffee facilities. The mini-bar was well-stocked, and the sitting area was cozy. I also enjoyed spending time on the terrace, which offered a perfect spot to relax and soak in the surroundings. I was impressed with the level of comfort and quality provided by this hotel.

I would highly recommend this hotel to my family and friends. The location, service, and amenities make for a truly luxurious and enjoyable stay.

missing

We loved this hotel. It is very beautiful / well decorated. It has an wonderful mountain view of Capadocia, but still 5 min walking from the City Center. The people in the hotel are very gentle and responsive. They treated us very well. Javuz, the owner of the hotel, was very nice with us. He showed the region and explained about the culture of Capadocia / Turkey. It could not be a better experience!! I highly recommend the hotel!!!

missing

To be honest according to my estimation of the brief visit to cappadocia Doors Of Cappadocia hotel is the best you can select among the available hotel at goreme town .You have everthing you need location new construction ,very clean ,and thanks a lot stuff and mrs Yavuz

Jerry

An amazing citadel-like hotel with open space and nice details. Great views and a quiet location near the town center. Staff is fantastic and accommodating, helping with transfers and tours. Good breakfast with local food. Lovely pool area.

Everything is what I need and want.

missing

Very nice location, near by down town. The staffs are very helpful.They change all bulbs in our room for us 'couse we feel it isn't bright enough.

No bath curtain. A little cold and always be flooded when someone in the shower.

missing

I have stayed in suite room. The hotel has a great location and nice ballooning view in the morning New and nice decorated rooms Small but nice swimming pool and sitting area

This hotel has the aspects of a 5 star hotel but what i have experinced in my stay makes the hotel does not even match 2 star hotel! 1- very poor breakfast 2- No Air conditions in the room!! They claimed that the nature of Goreme helps to keep the rooms cold but that didnt work when i was melting down in the afternoon! 3- very tiny closet, the only one i have seen similarly was in Smurfs village! 4- the lights are not enough in the rooms. I just mentioned the key things that they should work on and if they do i will be more than happy to come back again and rate it 10/10.

Rachel

I had an amazing stay at a hotel in Goreme. The location was perfect, just a short walk to restaurants and bars. The highlight was the jacuzzi in my room, which was so relaxing after a day of exploring Cappadocia. The rooftop terrace had beautiful Turkish carpets and offered stunning views. The breakfast spread had a great selection of Turkish-style food. I couldn't have asked for a better experience. Will definitely recommend it to friends.

missing

everything was absolutely wonderful. excellent location - excellent view - excellent breakfast ! the staff was really kind (so we would like to thank Ms. Perivan, Mr. Mahmut and Rasim bey and everyone for their special care, they made our week-end unforgettable). The hotel is really new so there are some parts which is not done yet, but I learnt from inside that there will be a sauna & hammam and a wine cave coming up for the next saison. we stayed in room 112 which was a suite, it was really really nice. we would definitely consider to live in this hotel :)

Arthur

The hotel had a nice view and the area was quiet which was nice. The complimentary spa service was good. Also, the free breakfast was a plus point.

The room wasn't worth the price. The staff was rude.

Caleb

This hotel is amazing! The location is perfect, with breathtaking views of the hot air balloons drifting over the village. The staff were so friendly and helpful, going above and beyond to make our stay enjoyable. The room was clean and cozy, and I loved sitting on the terrace and taking in the beautiful surroundings. The breakfast was delicious with a great variety of food to choose from.

I would highly recommend this hotel to family and friends.
FAQ about Doors Of Cappadocia Hotel (Adults Only)
How far is the city center from the Doors Of Cappadocia Hotel?
Goreme city center is reachable within a 5-minute walk from the Doors Of Cappadocia Hotel.
Which landmarks should we visit during our stay at the 4-star Doors Of Cappadocia Hotel?
Top-rated landmarks in Goreme include Pigeon Valley as well as Capp Off Jeep Safari, placed within 1.8 miles and 0.5 miles from the 4-star Doors Of Cappadocia Hotel respectively. O Agacin Alti (0.6 miles) is also worth a visit.
Does Doors Of Cappadocia Hotel have parking on site?
Yes, Doors Of Cappadocia Hotel features a parking lot available on site.
What are our dining options during the stay at the Doors Of Cappadocia Hotel?
Unfortunately, the Doors Of Cappadocia Hotel does not have on-site restaurants, but guests can dine in Orient Restaurant and Topdeck Cave Restaurant restaurants placed within a 6-minute walk from the property.
Does the Goreme hotel serve breakfast?
Yes, guests of the Goreme hotel can enjoy a buffet breakfast served daily in the restaurant.
What is the timeframe for check-in and check-out in the hotel?
Guests of the hotel can check in from 2 PM to 11.59 PM and check out from 12 PM.
Which facilities are included in the rooms at the Doors Of Cappadocia Hotel?
Some suites at the Doors Of Cappadocia Hotel boast a fireplace, a work desk as well as private bathrooms which include hairdryers and a spa bathtub.
Which facilities does the Doors Of Cappadocia Hotel provide?
Top locations of the Doors Of Cappadocia Hotel include a storage room and a restaurant, whereas guests' safety will be ensured with a safety deposit box and 24-hour security.